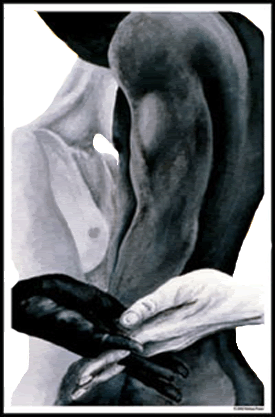 Anyone in an interracial relationship must deal with the usual difficulties relationships bring, plus negative opinion from society in general. Meaning that people you don't even know and have never met will often have an opinion (usually negative) about your relationship, simply because two consenting people from different groups have fallen in love.
In America's history, interracial relationships between blacks and whites have been met with widespread and even violent reactions. Due to America's history of black slavery, a huge divide between blacks and whites was created, making interracial relationships headline news, sparking riots, and the creation of laws forbidding such relationships.
It seems rather silly to me that a black man and white woman, or black woman and white man, should have any more difficulty maintaining a healthy loving relationship than anyone else. I've heard many times in my life various comments that the 'real difficulty' with these relationships is the "differences in cultures". Why are relationships between whites and Hispanics more acceptable, even with the differing cultures? Or, relationships between Hispanics and blacks, with their differing cultures? What about whites and Muslims? These couples are not treated with equal disdain and disgust, as black/white relationships are. Is it really the difference in culture so many seem to be bothered by? Or skin color?
If two consenting people choose to be in an interracial relationship, who are we as as individuals or as a society to ridicule them? Relationships between couples of very similar backgrounds, beliefs, upbringing etc have their own unique difficulties. Blending the lives of two people of the same race, with their own personalities, likes and dislikes, is hard enough. If two people of different races consent to be with each other, educating themselves about their differences and the unique challenges they face, and can blend their lives in a loving family unit, why should we care? Do we all not have the right to choose the path our lives will take?
There is certainly good and bad in all races. All races have been labelled with various stereotypes, ridiculous and very generalized opinions. Personally, I like being Color Blind. I enjoy learning of couples with different races and backgrounds who have found love, and can bring happiness and joy to each others lives. Children born from love are the most beautiful of all creation. Regardless of whether they are white, black, brown, yellow, green, pink or polka-dot. True love has no color.